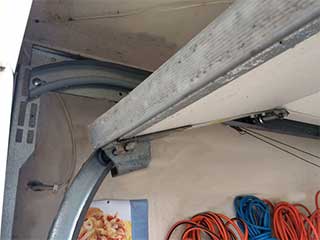 With problems that affect the movement of the door in your garage, you want the fix applied fast. From garage door off track scenarios to broken springs and an opener that isn't working right, all sorts of problems can make the system malfunction all of a sudden. With local Waltham garage door repairmen in your area, you have someone to reach out to when such troubles occur. Our emergency repairs for openers and garage doors let homeowners from all nearby areas get quick solutions to any issue.
Garage Door Reverses – Sensors Not Working
The safety mechanism of the opener sensors recognizes obstacles in the door's way and reverses it so it doesn't close on it. However, wiring issues and sensor misalignment can make the garage door reverse even though nothing is blocking its way. With such issues, the safety reverse mechanism isn't working right and the garage door sensors need troubleshooting to fix the problem. Our same-day repair services can even replace the sensors if it proves necessary.
Broken Spring Needs Replacement
Trying to open the garage door when a spring is broken isn't advised. Why? Because there's no proper support and counterbalance going on for the panels. Garage door springs have a crucial role. When they break, the system's operation is compromised and can lead to more damage if you try to continue using it. For quick help from experts on broken garage door spring replacement in Waltham, you can reach out to us at any point. Our emergency same-day repair service technicians will come to your house with a new spring to install on the spot.
Garage Door Roller Popped Out
Problems with the garage door tracks can lead to such scenarios. It often creates a block that sees the door stuck halfway or so open. If the garage door gets off track, and one or more rollers pop out, something's causing the problem in the tracks most likely. Our emergency garage door repairs help Waltham area residences deal with such unexpected problems whether it's steel or nylon rollers. When you need help replacing garage door parts or repairing damage, you have local technicians to assist you. So call Garage Door Repair Waltham for emergency solutions any day, any time!