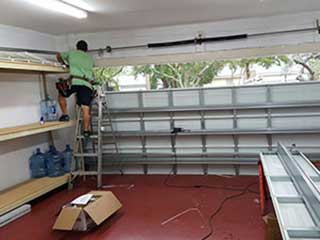 Large mechanical systems need to be checked and adjusted every so often in order to stay operational. When a lot of moving parts are involved, wear and tear can quickly build up. That's certainly the case with garage door mechanisms. These complex systems can experience a wide range of problems, but most of those can be effectively avoided with some proper care and attention. That's exactly where our technicians come in.
Increasing Longevity and Efficiency
Take your springs for example. These hardworking parts are bound to gradually wear out the more you use them. They're under so much tension it's a miracle they manage to last for a few years at all. Our service team will lubricate them, adjust their tension as necessary, and closely inspect them to make sure they aren't getting ready to break at any moment.
Ensuring User Safety
We're sure you love being able to use your garage door automatically. It's quite a major benefit of having an electric opener installed. However, this motorized unit still needs to be checked from time to time to ensure it's still safe to use. We'll make sure the alignment of its safety sensors is precise and that the auto-reverse feature is working properly. We'll also examine the motor and the circuit board, to make sure no hidden damages are about to cause a major malfunction.
An Encompassing Check Up
We'll not just settle for inspecting these aforementioned components. We'll work our way from the exterior panels to the tracks and the rollers and the hinges, making minor repairs as we go to ensure the door keeps opening and closing without any issues. We'll also lubricate all the moving metal parts that can benefit from it, to reduce the friction they suffer from.
Routine Service Appointments
Contact Garage Door Repair Waltham today and let our experts make sure your system keeps working for a long, long time. These regular service visits will help you save money and keep your family safe.
In addition, count on us for:
Genie Garage Door Openers
Oil Tempered Torsion Springs
Bent Garage Door Track Repair
Liftmaster Garage Door Maintenance