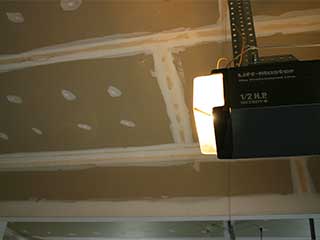 The opener is the most complex part of any garage door system. It's responsible for ensuring that the door moves smoothly and reliably each time it's used, and also contains the vital safety mechanisms that keep you and your family safe. Because it's such a complicated piece of machinery, it's often hard to track down the cause of problems when they arise. Our technicians have worked on every model of opener there is, and encountered practically every problem these devices can develop. You can be certain that our team will get any problem you're dealing with solved quickly and reliably.
Fast and Professional Repairs
There are plenty of ways that a garage door opener can malfunction. Drive gears can run out of lubricant, trolleys can become damaged and safety sensors can require re-alignment. No matter what the problem is, our experts will be able to bring your opener back to working condition. Our technicians carry a full selection of replacement parts with them every time they go out on a call, so you won't be kept waiting; we can usually swap out damaged components on the spot, so you can count on the fact that we'll get your door up and running again as quickly as possible.
Installing New Models
In addition to providing a comprehensive repair service, our team also offers professional opener installation. We work with the industry's top brands, like LiftMaster, Genie and Chamberlain, to bring our customers the best models available today. Our team securely installs each unit on overhead blocking before attaching it to the rest of your garage door. We ensure that the device is fully calibrated and works perfectly from day one.
Choosing Your New Opener
When picking a new unit, it can be difficult to know which one is right for you. Our team is always happy to provide help and advice, and will guide you through the process of deciding on a screw drive, chain drive or a belt drive model, and which additional features such as WiFi compatibility or rolling code technology you'll need.
Don't Delay - Get In Touch today
When your garage door opener breaks down, don't fret. Instead, get in touch with our team at Garage Door Repair Waltham. We're always ready to help every local homeowner with various problems.
But wait, there's more! We also offer:
Extension Spring Adjustment
Broken Garage Door Track Repair
Garage Door Safety Inspections
Opener Sensor Repair & Replacement