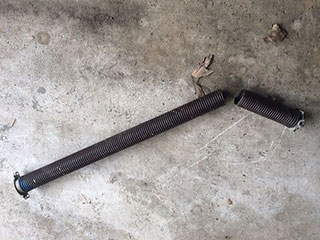 Problems that affect garage doors range from small issues to large malfunctions. Each part can eventually require replacement given enough use. But as far as common garage door problems go broken springs reign supreme. Why? Because the springs on the garage door of your Waltham home see the most action, so to speak. They always have to support and counterbalance the door's weight each time you use it. Therefore, broken garage door spring repairs are the most frequent service requests we get. Given the potential dangers involved, It's highly recommended that you let a professional handle this type of work and avoid putting your safety at risk.
Why Garage Door Springs Break
With the constant wear and tear, they go through, springs for garage doors experience a significant amount of degradation over time. This slowly makes their coils warp, leading to a point where the springs can't support the garage door anymore. As they grow weak, the springs will need some adjustment to remain in the most optimal condition. But eventually, the wear and tear will prove enough and the garage door springs will break. When that happens, though secured to avoid whipping around, it's still possible for the springs or parts of them to go flying. Because of this, replacement should get carried out by expert technicians. This way, you avoid the very serious dangers and keep yourself from getting hurt by broken garage door springs. The strength of these units makes them very dangerous when they break. And mishandling installation of new springs can also lead to them breaking.
Quick Spring Replacement For Waltham Garage Doors
When you've got a problem involving a broken or weak spring, you can get it solved fast without spending more money. Replacing garage door springs presents difficulties for amateur DIY repairs, so going with professional technicians in your area will provide the safest, and quickest, results. Garage Door Repair Waltham can help with broken spring replacement any day of the week. Let us know whenever a problem comes up and get same-day responses for any emergency spring repairs or replacement need.