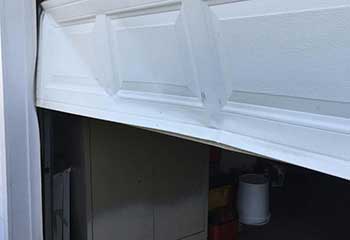 Panel Replacement
Customer Issue: One of the Peller children bumped their garage door with the family car after forgetting to hit the open button. The result was a damaged door panel in need of replacement.
Our Solution: We unhooked the door from its lift cables, and raised it out of its tracks by hand. The panel was broken down the middle, so we couldn't slide it out. Instead, we had to cut through the most dented part around the impact and pull it out in pieces. The replacement was easy to install though, and the door passed its tests with flying colors after we put it back in.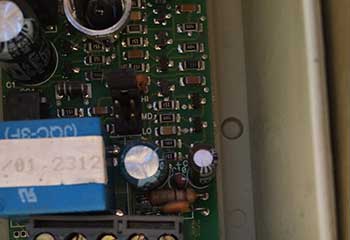 Garage Door Opener Repair
Customer Issue: The customer's opener refused to work. The lights all came on and the lights registered all remote control signals, but it wouldn't act on them.
Our Solution: There were no wiring issues or obstructions in the door mechanism, and opening the box itself revealed no motor jams. We then tried replacing the circuit board and reprogramming the opener, and this time it worked. We recalibrated the opener to the door's needs, and then put it through some final testing before calling it a mission completed.